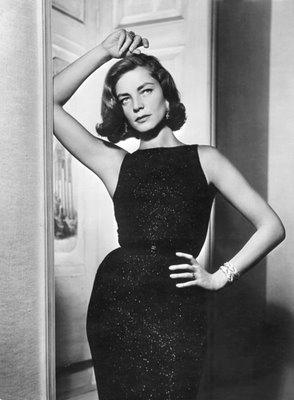 Leave it to Lauren Bacall, who died August 12 at age 89, to slink out the back door just as the whole country was distracted by the news of Robin Williams' suicide. The lady knew how to make an entrance and – maybe more importantly – she knew how to make an exit, too. But though she led an astoundingly full life, I'd still like to catch her by the well-tailored sleeve and whisper, "Not so fast, Slim." We didn't just lose the only person who could hold her own with Humphrey Bogart. Fast-talking dames everywhere just lost an important big sister.
She was born Betty Perske, a nice Jewish girl in Brooklyn, and we could argue it was her father's early disappearance that led her into Bogie's arms when she was nineteen years old and he was a hard-drinking, thrice-married forty-four. But anyone who's seen the duo's onscreen chemistry knows that's too pat an assessment. Bogie was more than twice her age, sure, but those two were of a piece. Certainly no one could match his supreme self-possession until she fixed him with that famous come-hither stare. No wonder director Howard Hawks, whose wife discovered Bacall on the cover of Harper's Bazaar, marketed her as "The Look."
Unlike, say, Marilyn Monroe, Bacall really did tell every story through her gaze alone. Even more powerful than her come-hither stare was her sideways glance, which always made it perfectly clear that she knew the biggest news was still around the corner. A cool hyper-vigilance was her trademark, and, a NYC girl to the end, her brand of haughtiness came with a hot dog in the hand. (A longtime resident of the Dakota, the legendary Upper West Side apartment building where Rosemary's Baby was filmed and John and Yoko resided, she told The New York Times, "You know what you learn if you're a New Yorker? The world doesn't owe you a damn thing.")
Perhaps even more important than "The Look" was her voice. Deep and sultry, it made everything sound like a purr, even though she was the queen of the acid aside. She spoke with a comic authority that was impossible to undermine, and in those basso profundo registers that suited the directors of her youth. (Hawks encouraged her to make her voice even lower.) It was as if she were one of the boys, with a little something extra to keep it interesting. Bogie called the effect "steel with curves."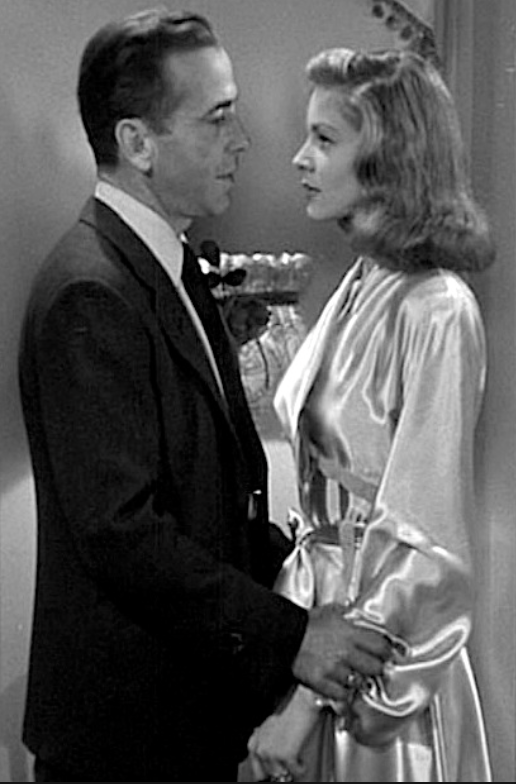 As that purr deepened into a gravely growl, Bacall became even more outspoken as an old-school liberal, but even when young she made her platform known. After marrying Bogie (that is, after he left his third wife for her), she convinced him to abandon his Republicanism to endorse Democratic presidential candidate Adlai Stevenson. The husband and wife team even famously joined the Committee for the First Amendment, which also included the likes of Gene Kelly, John Huston, and Ira Gershwin, to protest the Un-American Activities Committee's anti-communist witch-hunting.
The trick with Bacall was she never seemed young even when she was young. She didn't seem old, either. Like all true goddesses, she seemed ageless – timeless, even, which is why her work leaps off the screen today as something almost preternaturally modern.
Yes, her best film roles may have been in her quartet of Bogie pics (Key Largo, To Have and Have Not, Dark Passage, and The Big Sleep) but she was always electric, whether paired with the likes of Gregory Peck, Kirk Douglas, Gary Cooper, and John Wayne or when she began to take on "grand dame" status, which she did at an awfully early age in such films as Murder on the Orient Express. People who bemoan her uneven post-Bogie career forget that not only did she continue to work with such directors as Robert Altman (Prêt-à-Porter) and Lars Von Trier (Dogville and Manderlay), but she scored a Golden Globe as well as an Oscar nod for her 1996 turn as a narcissistic mother in Streisand's The Mirror Has Two Faces. The Lady earned her 2010 honorary Academy Award.
Another trick Bacall had up her sleeve was a knack for reinvention. In the 1970s, she became an author, winning the 1980 National Book Award for her first memoir, Lauren Bacall by Myself, which boasted a characteristically wry, unadorned wisdom. When Hollywood disappointed her, she returned to her first love, Broadway, where she scored Tonys for starring roles in two musicals adapted from classic films: Applause (1970), based on All About Eve, and Woman of the Year (1981). And when love disappointed her – she seemed perpetually attracted to hard-drinking tough guys, and Frank Sinatra and Jason Robards Jr. proved more caddish partners than Bogie – she became a brilliant single lady.
As she aged, Bacall only grew more leonine, remaining one of those "lanky brunettes with wicked jaws" (to quote William Powell in The Thin Man) until the very end.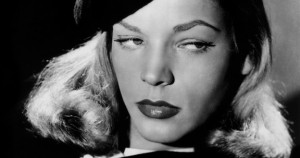 She was a member of a dying breed, and not just because she was one of the last living stars who worked within the Hollywood studio system. Bacall was a siren who knew the pleasure of saying what she meant to say when she meant to say it, and, without her, there'd be no Faye Dunaway, no Susan Sarandon, not even an Emma Stone. I can't help but wonder: Now that our Betty has passed, who will assume her flinty mantle?
This essay was originally published in Word and Film.