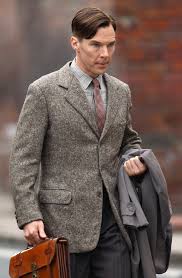 "The Imitation Game" may be released by The Weinstein Company but it feels pure Miramax, Bob and Harvey Weinstein's first production company. This is not a condemnation of the film. Rather, it is (mostly) a commendation: In their 1990s Miramax glory days, the Weinstein Brothers – though so reportedly controlling that Harvey earned the nickname "Scissorhands" – produced a steady stream of high-caliber, relatively high-grossing projects that, with unapologetic gloss and just enough edge, recalled the golden era of mid-twentieth century Hollywood. (That is, if movies from that era had focused upon heroin addicts, slackers, gangsters, and various emissaries of the queer community).
Certainly this account of Alan Turing, the cryptologist who helped win World II only to commit suicide after being persecuted for homosexuality, has all the makings of a prestige biopic. It's about a lone wolf defeating seemingly insurmountable odds with a series of heart-rending victories and defeats. It boasts expertly paced, lavish direction by Norwegian hotshot Morten Tyldum. Benedict Cumberbatch, that nerdy hunk known for portraying smart-alecky problem solvers (Julian Assange, Sherlock Holmes), stars as Turing. Keira Knightley, the thinking man (and woman)'s dream girl, plays Turing's fiancé, Joan, whose big brains are overlooked because of her gender. And, despite the complex subject matter, it is not so cerebral that we don't laugh and cry. If I sound, oh, a tad cynical, rest assured that it's only a tad.
After all, the bones of this story are fascinating. With the Nazis taking control of Europe in 1939, the British government recruits six math and chess geniuses, including Turing, to crack the German "Enigma" code used to issue daily orders to naval troops. Since it's estimated that it'll take decades to break Enigma by traditional methods, Turing, though widely disliked for his snide eccentricities, is allowed (after he extracts permission from Churchill himself) to develop the first incarnation of the computer in order to solve the puzzle. How cool is all that?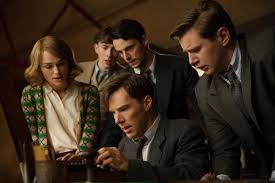 It must be said that, though we observe the team (including that tall drink of water Matthew Goode) scribbling algorithms on napkins and hunched over desks, the underlying mathematical concepts of the code are only cursorily referenced. Many of us might not be able to grasp more than a Wikipedia version but the omission still feels a little condescending; the best films about science and math explain to us what our schoolbooks never could. (And as long as I'm in the business of nit-picking, historical evidence suggests Turing did not work as singlehandedly as he does in this film.)
Intercut with flashbacks to Turing's lost love, a fellow cryptology whiz who died when the boys were teens, the first half of the film is driven by the quest to crack Enigma. But even after they break the code, the British team is forbidden from acting on their discovery; if the Germans learn their system has been hacked, they'll immediately cease to use it. Instead, the code-breakers are forced to stand by as the body count rises and their government slowly calibrates their secret knowledge. Moral dilemma upon moral dilemma piles up (just imagine the Weinstein Brothers' satisfied smiles), and even after the war Turing is forced to remain anonymous and uncelebrated. Upon his 1951 arrest for "indecency" (read: homosexuality), he also is chemically tortured.
It's a devastating story, and the film does a good job of underscoring how, even when plundering "outliers" for their resources, the powers that be rarely stand by them. A subplot about Turing's mutually beneficial engagement, which legitimizes Joan's inclusion in the male work world while granting him a beard, further covers that ground. I used to groan over Knightley's dimple-flashing and eyelash-batting – her turn as Elizabeth Bennet in 2005's "Pride & Prejudice" is unforgivable – but over the years she has deepened into a formidable actress. Here, she infuses her slightly underwritten character with a necessary gravitas.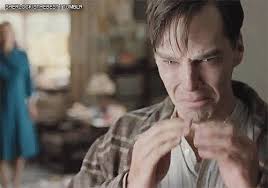 And of course, there's our Bennie. With his darting eyes and strangely touching starchiness, Cumberbatch was born to wring the sogginess out of exactly this sort of material. There's such an appealing economy in his physical and emotional expression that he converts entire audiences into codependents who hang on his every gesture. Despite the accusations of "Oscar-baiting" that will no doubt be flung at "The Imitation Game," the actor is bound to score a nod from the Academy, and he will richly deserve it. For that matter, this film also deserves the mainstream kudos it'll receive. For all its broad strokes, it is a historical drama whose high stakes and underdog hero makes it the kind of commercial fare Hollywood has always done best.
This review was originally published in Word and Film.