It will surprise no one who reads me that after finishing a film lecture upstate today I couldn't bring myself to rush back to the city for Pride. Not because I don't love my LGBTQ+ community but because I am incapable of abandoning a quiet green place for a crowded concrete one–at least before saying hi to every tree and bird in a two-mile radius.
So I sat by a lake and thought about luck once again. How unlucky we are to be living in the last few years of an environment that can functionally feed and hydrate and shelter us–or maybe how lucky we are to still have it today, given our abuse. How unlucky we are to be living under an administration that so brutally upholds capitalismcolonialismcockocracy–or maybe how lucky we're finally forced to confront our country's core of capitalismcolonialismcockocracy. How unlucky we are that so many queer community members–especially the gender-nonconforming–face mortal danger but how lucky that so many young people feel free to claim their sexuality given that when my generation was coming up, teachers were fired just for being gay.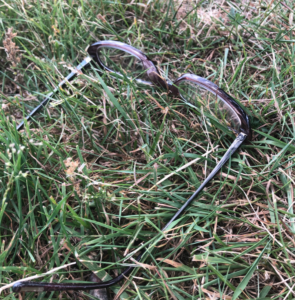 And then there's the personal stuff. How just yesterday I'd run into that stranger called my life for the first time in years only a few days after we'd messaged for the first time in years. And how a friend of K's–a guy who helped me this dreadful spring for no reason except his general kindness–took suddenly, gravely ill.
The list goes on and on and woven into each item is our connecting karma, the Indra's Net cradling each of us in its spidery, silvery arms.
I meditated on this for a while, sending everybody, and I do mean everybody, bright white light. Then, no joke, a gull came along and took a white bright dump on my blanket. It was the classic luck, schmuck conclusion, and I had to laugh.
But upon standing I saw a pair of glasses in the grass alongside me. Technically the abandoned lenses must have been there all along but of course I only noticed as I was feeling like I'd figured itall out. I only noticed the second pair–a half pair, really–on the curb as I returned to my car.
It's like James Brown had hurdled back onto the planet in big preacherly robes hollering DO YOU SEE THE LIGHT? DO YOU SEE THE LIGHT? while Jake and Ellwood did sloppy somersaults and a very young Chaka Khan squirmed in ecstasy. Because, YES I SEE THE LIGHT AND THANKS FOR THE CORRECTIVE LENSES but also maybe I'M STILL NOT SEEING EVERYTHING I SHOULD!?
Gods and goddesses, send as many visions as you can.