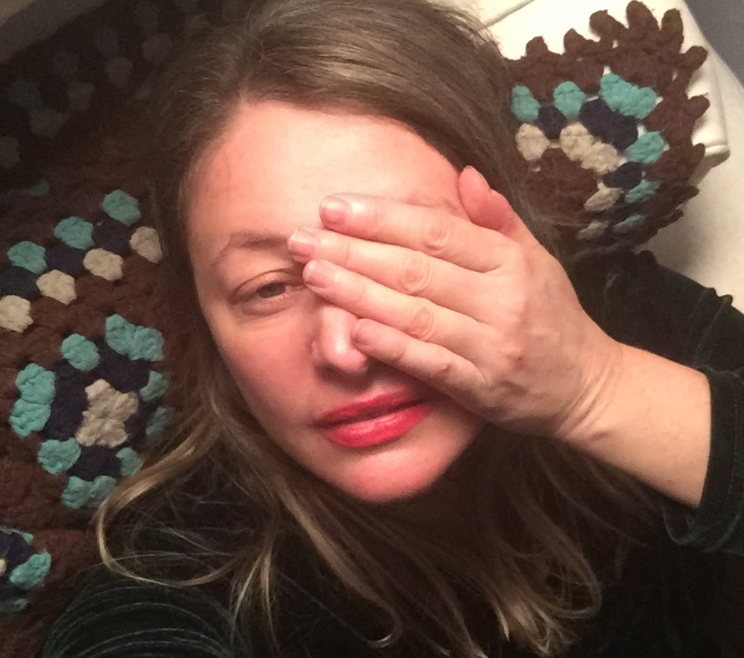 I wake and for the third morning in a row hear Joan Armatrading singing these lyrics in my head:
If you're gonna do it do it right
Don't leave it overnight
Also for the third morning in a row–more like the sixth, who am I kidding?–the rain is pounding against my window. I can tolerate this much rain in the spring–there's a point to it, even a gift–but in February it's just mean. Cold and wet and mean. Which is how I've been experiencing everything, including myself. Take the dream from which I'm waking. It's as rough as the weather.
There are missing children–how many? Two? Three? Four? Are they connected to me? No one seems to know, not even me, but I feel a connection between myself and these helpless children though the exact nature of that connection is unclear.
Finally they are discovered buried in a trunk. Their insides are now their outsides, red and slick and raw, and their bodies are burrowed into a slick blood beast–shark teeth, human-sized rat, so awful. Are the children alive or dead? They are ages six and four. They are ages eight and six. They are in trouble. So am I.
I am in a hotel now and am a responsible, sagging adult of 47 and also a fuckup of 27 who's as close to physical perfection as I'll ever get. There is a very tall handsome man–close-cropped hair; long, improbable muscles. He is supposed to be my partner but also someone else's. Maybe I am the mistress. I have a claim on him but not an upright one. I draw him between my legs. We begin to have sex and I am using all the strength of my vaginal muscles that I never bothered to use with Mr. Oyster. Once he complained about it, but I never saw the point of ushering him in fully. The whole sexual exchange was in his head, not between us, and that made me furious though I never admitted it to myself, let alone to him. I pretended our sex was great. It was terrible. The chemistry was great.
The guy keeps repositioning me and I realize it's because he can't really achieve an erection because our vibes are so bad. He finally slides out against my leg and we both see I have my period. 
I'm HIV negative, I say, and he says, There are other diseases we can give each other. Ugh, I'm bored within the dream of modern life, modern love. The PSA melodrama of all that bad blood. The biggest nightmare is that the bad sex and menstrual fluids ruin my new white sheets. With my new pillows and new pillow top mattress it's been like sleeping on a cloud, and now I'm being hurtled back to earth. Also consciousness because….
I wake up left foot hurting (left is about receptivity; metaphysician heal thyself), the rain pouring so loudly it's right inside my ears. Also my heart. More fucking rain, I remember my mother saying while I listened outside her bedroom door, a five-year-old Harriet the Spy. It was the first time I'd heard her say that word, and I only understood it as a satisfyingly emphatic adverb. The build-up of the "PHHHH." The dick-slap of the "K."
What am I doing this week? This year? What am I doing in New York? I need nature. I need a plan. I need a plan to make a plan. I need to figure out where I belong in new media, old media, the astral plane. I need to figure out who's listening, if anyone at all. Is anyone listening now?
All I want is coffee and maybe a bagel, definitely another paperback and to hear that song. Also to fix my sound system so I can hear it right.
Instead of checking off items on my "if it's sunny today" list–shower, beach, church, smile–I'm getting rid of broken and outdated technology. I wipe an old laptop and disconnect a VCR and broken speaker, so dusty I'm sneezing and swearing like my mother in the 1970s. I set up a second bluetooth speaker and gnash my teeth over poorly worded manuals before figuring out how to integrate it into a stereo system throughout my apartment. When it's done, I stream Joan through all of Gracie Rosmansion, and feel proud. Then I find the track that's been streaming through my dreams and laugh loudly. It is called "Help Yourself." I hadn't remembered that.
Need someone to help me
But not you, you're not ready
Seems you have trouble helping yourself
The hardest thing about living and working by myself is also the best thing about it: I'm the whole kit and kaboodle. The muscleman, the housekeeper, the legal rep, the accountant, the creative, the super, and, o yes, the IT department. Some days I PHHHucKing hate it but the truth is my sense of capability is through the roof. Just don't ask about my cooperation skills. Don't ask about intimacy, either, because now that I've finally become independent I confuse intimacy for codependence. Still not sure if they differ.
Nope, things aren't clear. They're rainy.
I go down to the waterfront and feed Oshun copper pennies and honey; murmur thanks for the blessings she's already shared. I live in a city surrounded by rivers and so it's the river goddess' guidance I'm seeking though at heart I am a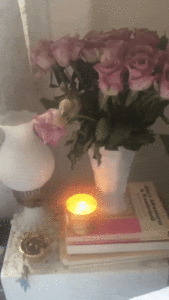 daughter of her sister, the sea goddess Yemaya. What do you want me to do? I ask them both, and a red tugboat slides by, huffing and puffing. Working so hard and looking so fine. I get it, I get it. "Help Yourself."
Easier said than done.
I walk home with soaked boots and no hat, and flash on how I cried through a visit with a friend Friday night, spewed bile the whole week before. Cold feet, wet head, mean heart. I buy lavender tea roses, and place them in a milk glass vase on my bedside table. Climb into my cloud bed to keep them company, draw the covers over my head. Tomorrow's another day. Another thing my mother says. She's not wrong, my mother, but this rain never seems to end.